5 Best All-In-One Diesel Heaters Reviews
This article may contain affiliate links, which means if you make a purchase following our links won't cost you extra, but we may earn a commission. Learn more
The best all-in-one diesel heater is a versatile solution for those seeking efficient warmth, be it at home, in a car, or even in a campervan. These heaters, available in both portable and stationary models, are designed to cater to various needs.
With options ranging from a robust 8kw heater for larger spaces to a more compact 5kw version, there's a fit for every requirement. Especially popular among van and campervan enthusiasts, these diesel heaters ensure a cozy environment during chilly nights on the road.
Their effectiveness isn't just limited to vehicles; many homeowners also vouch for their efficiency and convenience. Investing in a top-tier all-in-one diesel heater guarantees consistent warmth wherever you need it.
Benefits of Using All-in-One Diesel Heaters
All-in-one diesel heaters have rapidly become a favorite for many, and for good reason. Their energy efficiency stands out, ensuring that users get the most heat for the least amount of fuel.
This not only saves money but also promotes a greener approach to heating. The convenience they offer is unparalleled. Gone are the days of complex setups; these heaters are designed for simplicity.
Their cost-effectiveness is evident not just in their efficient fuel use, but also in their durability, reducing the need for frequent replacements or repairs.
The versatility of these heaters means they can be used in various settings, from homes to vehicles, making them a valuable asset for many.
Top 5 Best Diesel Heater Reviews
1. VEVOR 8KW Diesel Heater
This all-in-one marvel is not just a heater; it's a promise of warmth, safety, and convenience. Designed for those who love the outdoors, its installation-free feature ensures you're always ready for an adventure.
The heater's innovative sandblasting aluminum heat exchanger guarantees rapid heat transfer, ensuring you're always enveloped in a cozy ambiance, whether in your vehicle, boat, or cabin.
Its intelligent dual control system, comprising a 32 ft long-distance remote and an LCD, ensures you're always in command, adjusting temperatures to your liking. And with its high safety system, rest assured, you're in safe hands.
Special Feature: Intelligent Dual Control with LCD and Remote
Key Features
Rapid and efficient heat transfer
Low-noise, fuel-efficient pump
Long-distance remote control
Suitable for high-altitude and low-temperature areas
Comprehensive safety system
Compatible For
Cars, trucks, and RVs
Boats and ships
Excavators and tool rooms
Indoor spaces and cabins
Where Need to Improve
Overheating protection activates at ≥518°F
The VEVOR 8KW Diesel Heater is a game-changer for those seeking efficient and reliable heating solutions. Its unique features and robust performance make it a top contender for the best all-in-one diesel heater.
---
2. WIPPRO Diesel Heater
WIPPRO's Diesel Heater is a testament to innovation and efficiency. With a power of 8KW, this heater promises to transform cold, unwelcoming spaces into warm havens in just 10 minutes. Its LCD display and 33ft long-range remote ensure you have complete control over your heating experience.
The heater's high combustion efficiency ensures rapid heating while being fuel-efficient. Its design is not just about performance; it's also about convenience.
Lightweight and easy to install, it comes with a full set of accessories to meet your daily needs. And with its radiant burner type, expect consistent and even heating every time.
Special Feature: Adjustable Temperature with LCD and Remote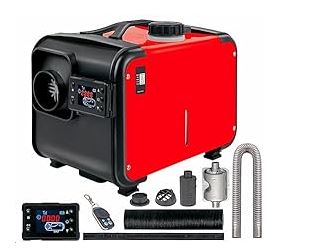 Key Features
Fast heating in just 10 minutes
Long-range remote control
Low energy consumption, high heat output
Suitable for altitudes below 9800ft
Easy installation with full accessory set
Compatible For
Campers and RVs
Cars and trucks
Outdoor settings in cold climates
Where Need to Improve
---
3. Happybuy 5KW Diesel Air Heater
This all-in-one solution is designed to ensure you never have to compromise on warmth, no matter where you are. Its advanced aluminum combustion chamber heats up rapidly, ensuring your vehicle's interior is toasty within minutes.
Moreover, the heater's precision in fuel control ensures optimal combustion, making it a fuel-efficient choice for those chilly nights. The voice broadcast function coupled with a remote control ensures you're always in command, even from a distance.
Whether you're on the road in your RV or anchored at sea in your boat, this heater promises consistent warmth.
Special Feature: Voice Broadcast & Remote Control
Happybuy 5KW Diesel Air Heater
Key Features
Rapid aluminum combustion chamber heating
Efficient fuel consumption
Voice broadcast function for easy monitoring
Remote control with 98 ft range
Versatile use for vehicles and indoors
Compatible For
Cars, RVs, and caravans
Trucks and buses
Ships and boats
Indoor spaces
Where Need to Improve
Limited remote control range
Single-air outlet design
Happybuy's 5KW Diesel Air Heater is the perfect companion for those seeking a reliable and efficient heating solution. Its unique features and robust performance make it an ideal choice for the best all-in-one diesel heater.
---
4. HCALORY 12V Portable Diesel Air Heater
HCALORY's 12V Portable Diesel Air Heater is the epitome of innovation and functionality. Designed for those who prioritize safety, this heater complies with all safety regulations and comes with features like automatic shutdown and overload protection.
Its high efficiency ensures rapid heating, making it a favorite for professional use. The heater's compact toolbox design ensures portability and easy maintenance. With its low noise output, expect a serene environment wherever you set it up.
The smart remote control and optional Bluetooth app add a touch of modernity, ensuring you're always in control.
Special Feature: Bluetooth APP Control & LCD Monitor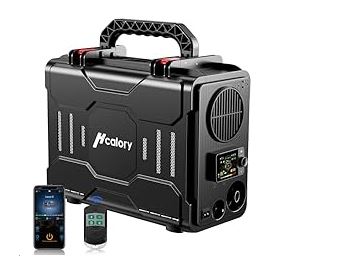 HCALORY 12V Portable Diesel Air Heater
Key Features
Certified safety features
High efficiency with rapid heating
Compact toolbox design for portability
Quiet operation for a peaceful ambiance
Smart remote control with Bluetooth app
Compatible For
Cars and trucks
Boats and buses
RVs and motor-homes
Campers
Where Need to Improve
---
5. SILVEL 5KW-8KW Diesel Air Heater
Crafted with a unified body of aluminum components, this heater promises swift heating and efficient heat distribution.
Its intelligent sensor ensures the heater never runs dry and maintains a steady temperature. Designed for minimal noise, it ensures a peaceful environment, making it ideal for both vehicles and indoor spaces.
Its all-in-one design ensures easy installation, and its radiant heating ensures even warmth distribution.
Special Feature: Portable with Remote Control & Noiseless Operation
SILVEL 5KW-8KW Diesel Air Heater
Key Features
Rapid and efficient aluminum heating
Intelligent temperature maintenance
Low noise for a serene ambiance
Versatile use for vehicles and indoors
Easy all-in-one installation
Compatible For
Cars, trucks, and caravans
Boats and other water vessels
Various cab heating needs
Where Need to Improve
---
Ultimate Diesel Heater Selection Guide
Navigating the market for the best all-in-one diesel heater can be a challenge, given the plethora of options available. This guide aims to simplify your decision-making process by highlighting the essential features to consider.
Energy Efficiency
A top-notch diesel heater should be energy efficient. This not only ensures that the heater consumes less fuel but also translates to cost savings in the long run. Check the heater's fuel consumption rate and compare it with other models to determine its efficiency.
Versatility
The ideal diesel heater should be versatile enough to cater to various needs. Whether you're looking to heat a vehicle, a boat, or a room, the heater should be adaptable to different environments and requirements.
Ease of Installation
A user-friendly design that facilitates easy installation is a boon. Look for heaters that come with a comprehensive manual and have a design that doesn't require professional intervention for setup.
Control and Monitoring
Modern diesel heaters often come with advanced control panels, remote controls, or even smartphone app integrations. These features allow for precise temperature control and monitoring, enhancing user convenience.
User Reviews and Recommendations
While technical specifications provide a clear picture, user reviews, and recommendations offer practical insights. Go through customer feedback to understand the real-world performance and potential issues of the heater.
Learn More: Diesel Vs. Kerosene Heater: Know the Details
how to install an all-in-one diesel heater
Installing an all-in-one diesel heater requires precision and attention to detail to ensure optimal performance and safety. Following a systematic approach will help in achieving a seamless installation. Here's a step-by-step guide to help you through the process:
Step 1: Mounting the Heater
Secure the heater in the chosen location using the provided brackets or mounts. Ensure it's firmly attached to prevent any movement during operation.
Step 2: Setting Up the Exhaust System
Connect the exhaust pipe to the heater's outlet. Make sure it's directed away from any potential obstructions and areas where exhaust fumes could re-enter the vehicle or space.
Step 3: Fuel System Installation
Connect the fuel tank to the heater using the provided fuel line. Ensure the fuel pump is positioned at an angle to facilitate smooth fuel flow. Attach the fuel filter in line to prevent any debris from reaching the heater.
Step 4: Electrical Connections
Connect the heater to the power source using the provided wiring harness. Attach the red wire to the positive terminal and the black wire to the negative terminal. Ensure all connections are secure to prevent any electrical issues.
Step 5: Setting Up the Control Panel
Mount the control panel in a location that's easily accessible. Connect it to the heater using the provided cable. This panel will allow you to control the heater's temperature and other settings.
Step 6: Testing the Heater
Once everything is set up, turn on the heater. Monitor its operation for a few minutes to ensure everything works as expected. Listen for any unusual sounds and check for any leaks or issues.
Step 7: Ventilation Considerations
Ensure the area around the heater is well-ventilated. This is especially important if you're installing the heater in a confined space like a vehicle. Proper ventilation ensures the efficient operation of the heater and prevents the buildup of harmful fumes.
Remember, while the installation process might seem straightforward, always refer to the manufacturer's manual specific to your heater model for any specific instructions or recommendations. If unsure about any step, consider seeking professional assistance to ensure the safety and efficiency of your diesel heater.
Diesel Heaters vs. Other Heating Solutions
The debate between diesel heaters and other heating methods is one that many find themselves in. Diesel heaters often come out on top in terms of performance. They heat up quickly and maintain a consistent temperature, ensuring comfort during those cold months.
In terms of cost, while the initial investment might be higher, the long-term savings in fuel and maintenance often make diesel heaters more economical. Environmentally, diesel heaters, especially the all-in-one variants, are designed to be more efficient, leading to reduced emissions.
User preferences lean towards diesel heaters due to their reliability and the consistent warmth they provide.
Read More: 8 Best 12 Volt Car Heaters
Ensuring Your Diesel Heater's Peak Performance
Maintenance is key to ensuring that any device or appliance runs at its best. For diesel heaters, regular checks are essential. This includes inspecting the fuel lines, checking for any blockages, and ensuring that the heater is clean.
Common issues, such as clogged fuel lines or malfunctioning thermostats, can be easily addressed if caught early. Longevity is another aspect where maintenance plays a crucial role.
Regular upkeep ensures that the heater lasts longer and performs efficiently throughout its lifespan. Adhering to the guidelines provided ensures safety and optimal performance.
Optimal Spots for Diesel Heater Placement
Indoor Spaces: Diesel heaters can be a boon for indoor spaces, especially large rooms or areas that traditional heating solutions might not cover effectively. They provide consistent warmth, ensuring every corner is comfortably heated.
Vehicles: From RVs to trucks, diesel heaters ensure that the journey is comfortable, irrespective of the weather outside. Their compact size makes them ideal for vehicles, ensuring they don't take up too much space.
Outdoor Settings: For those who love camping or have outdoor events during colder months, diesel heaters can be a game-changer. They provide the necessary warmth, ensuring the cold doesn't put a damper on the activities.
Workspaces: Garages, workshops, or any other workspaces can benefit from the consistent warmth that diesel heaters provide. They ensure a comfortable working environment, boosting productivity.
Image Credit: Amazon.com
Read More: