8 Best Wood Pellets for Stove: A Detailed Guide
This article may contain affiliate links, which means if you make a purchase following our links won't cost you extra, but we may earn a commission. Learn more
A wood pellet stove is a great way to heat your home in a more efficient and environmentally friendly way. Pellet stoves burn wood pellets, which are made from compressed sawdust or other wood waste. They are a renewable energy source and produce less pollution than other types of stoves.
If you are considering a pellet stove, it is important to choose the right pellets. There are many different brands and types of pellets on the market. Some pellets are made from different types of wood, while others are made from recycled materials. The best pellets for your stove will depend on your preferences and your budget.
One complaint about Wood Pellet is that these are everywhere, and sometimes difficult to find. Here we have selected some of the pellets that are popular and available almost everywhere.
Why Are Wood Pellets Important for Your Stove?
Pellet stoves are more efficient than traditional wood stoves because they burn the pellets more completely. This results in less smoke and fewer emissions. Pellet stoves also have a higher heat output than traditional stoves, so they can heat your home more quickly.
Overall, pellet stoves are a great option for those who want to reduce their carbon footprint and save money (when they select the right pellets) on their heating bills. With the right pellets, a pellet stove can provide you with a warm, comfortable home all winter long.
Wood pellets are a great source of fuel for your stove. They are made from 100% natural wood and are a renewable resource. They are also a very efficient fuel source, providing more heat per pound than other types of wood. Pellets also create less ash and smoke than other types of wood, making them a cleaner-burning fuel. Besides this,
1. They are a renewable resource
2. Carbon-neutral
3. Easy to store and transport
4. They are easy to use
5. More efficient and
6. They produce little ash.
Hardwood Vs Softwood Pellets
Hardwood pellets are made from, you guessed it, hardwood. They are from trees like oak, hickory, beech, and maple. Softwood pellets are made from softwood. They are from trees like spruce, cedar, and pine.
The main difference between the two is the density of the wood. Hardwood is denser than softwood, so hardwood pellets pack more energy and burn hotter and longer. Softwood pellets are lighter and burn cooler and shorter.
So, which is better? It depends on what you're looking for. If you want a hot fire that burns for a long time, go with hardwood pellets. If you want a fire that's easy to control and doesn't burn as hot, go with softwood pellets.
How to Choose the Right Wood Pellet for Your Stove?
There are a few key factors you should consider before purchasing wood pellets for your stove. Below are some important factors to keep in mind before making your purchase.
The Type of Wood Pellet
There are two main types of wood pellets – hardwood and softwood. Hardwood pellets are made from denser woods such as oak and maple, while softwood pellets are made from lighter woods such as pine. Depending on the type of wood stove you have, you may need to use a specific type of pellet. Check your stove's manual to see what type of pellet it requires.
Brand
The brand is an important factor in Pellet selection. There are some materials like bark, cardboard, recycled paper, etc. which are not directly from wood, these elements make a lot of ash and produce less heat. While these brands may be less expensive, they do not burn completely, produce smoke, and can be harmful to the environment.
The Size of the Wood Pellet
Wood pellets come in a variety of sizes, from small to large. The size you need will depend on the size of your wood stove. Again, check your stove's manual to see what size pellet it requires.
Moisture Content
How long it takes to burn a wood pellet on your stove, how efficiently it will burn, and how much smoke will be generated, will largely depend on the amount of moisture inside the pellet. So, when choosing, make sure that the humidity is not more than 7%.
Ash Content
The ash factor is one of the ways to verify the quality of a particular wood pellet. Here, the less ash you get, the better the pellet skills will be. Because, if the pellet is not correct, it will not burn completely, so you will get more ashes.
The Price
Wood pellets are typically priced by ton. The price can vary depending on the type and size of the pellet, as well as the supplier. Be sure to compare prices from different suppliers before making your purchase.
The Delivery Method
Some suppliers offer delivery services, while others do not. If you do not have a way to transport the pellets yourself, you will need to find a supplier that offers delivery.
The Storage Method
Once you have purchased your wood pellets, you will need to store them properly. Pellets should be stored in a dry, cool, and dark place. An airtight container is ideal.
The Expiration Date
Wood pellets have a shelf life and will eventually expire. Be sure to check the expiration date before purchasing pellets.
Here we are reviewing the 8 best wood pellets for the stove, focusing on the highest interests of your stove. You can choose your best choice-
1. Smoker Pellets Variety Pack
Dimensions: 9.09 x 8.23 x 6.3 inches
Weight: 7.56 pounds
Flavor: Alder, Apple, Cherry, Natural Wood, Peach, Maple
If you are looking for the best wood pellets for your stove, Smoker Pellets Variety Pack can be your best solution! This perfect assortment of Fruit and Hard Woods will give your food the rich, fragrant smoke flavor you crave.
These wood pellets for the fire pit contain no additives whatsoever – only 100% shredded Variety Wood. So whether you're grilling, smoking, or even baking, our pellets will give your food the delicious flavor you desire.
Smoker wood pellets are pressed by pure force to achieve their density and hardness, making them ideal for long smoking periods.
Pros
Ideal for long smoking periods
Perfect size and density for use in smokers and all grills
Fragrant smoke enhances the flavor of any food
100% natural wood chips
Easy to use and clean up
Wood pellets are a cost-effective
Environmentally friendly and sustainable
Cons
---
2. Flame Genie Premium Wood Pellets
Dimensions: 13 x 21 x 5 inches
Weight: 20.4 pounds
Flavor: Natural Wood
These wood pellets are premium wood pellets that are definitely designed for use with Flame Genie and are suitable for those who want a clean-burning and allergy-free alternative.
Made from 100% natural wood, these trees are perfect for anyone who wants to enjoy the unique experience of wood-burning stoves without hassle.
Another advantage of these wood pellets is that they do not produce smoke or sparks. Only 5% – 10% moisture content.
Pros
100% natural wood fuel
Burn clean and are allergy-free
Easy to use with no hassles
Don't produce smoke or sparks
Easy to clean up
High quality and last long
Cons
Suddenly the fire may go out
---
3. Small Wood Pellet Basket
Dimensions: 12 x 8 x 7.5 inches
Weight: 11 pounds
The Small Pellet Basket is a great way to burn wood pellets without the need for electricity or natural gas. Simply place the basket in your wood stove, then fill it with wood pellets, and light the pellets. Use a gel fire starter for light. 
The small wood pellet basket is made of metal and is 12″ wide x 8″ deep x 6″ tall in the front and 8″ tall in the back.
It weighs 11 lbs and holds 10 lbs of wood pellets, that's enough. A Small Pellet Basket is a lower-cost alternative to your pellet stoves
Pros
A lower-cost alternative to pellet stoves
Pellet baskets are easy to use
They are safe to use
Pellet baskets are versatile
Durable
They are easy to store
7-day return policy
Cons
The customer is responsible for shipping charges
---
4. LIGNETICS Wood Pellet Fuel
Dimensions: 27 x 15 x 4 inches
Weight: 40 pounds
Lignetics wood pellet fuel is a premium quality product that is clean-burning, efficient and produces very little ash. 
It is the perfect fuel for use in wood pellet stoves and is also smokeless and pollution-free. Your chimney will not be a problem.
This product is manufactured in the United States. It's one of the best wood pellets for pellet stoves.
Pros
Premium quality fuel that is clean-handling
Pollution-free and have no chimney problems
Have high efficiency
Smokeless
Environmentally-friendly
Cons
---
5. Wood Pellets Premium Grade
Looking for a clean and efficient way to heat your home? Look no further than this wood Pellets Premium fuel!
This premium quality wood pellet fuel is perfect for use in wood pellet stoves and produces very little ash.
You'll also enjoy clean handling and no chimney problems with wood pellet fuel. It's the perfect way to heat your home efficiently and cleanly!
Pros
Smokeless, so you won't have any chimney problems
Very efficient, so you'll save money on your heating bill
Produces very little ash, so it's easy to clean up
Environment friendly
Easy to store and transport
Also great for use in nature mill automatic kitchen composters
Cons
---
6. Large Wood Pellet Basket
Dimensions: 17 x 8 x 9.5 inches
Weight: 16 Pounds
Looking to add a heating source to your wood stove or fireplace? Check out this large pellet basket! Using wood pellets as your heating source is a great way to add some extra warmth to your home.
This large wood pellet basket is made from high-quality materials and is designed to last. It's perfect for those cold winter nights when you want to cozy up by the fire.
Large pellet baskets allow you to store more pellets at once, so you can have a longer burning time. Also, it's a great way to save money on your heating bill!
Pros
Less pollution and debris are created when using a pellet basket
A basket is a more sustainable
Easier to use
Baskets are available in a variety of sizes
Cons
---
7. BEAR MOUNTAIN Pellets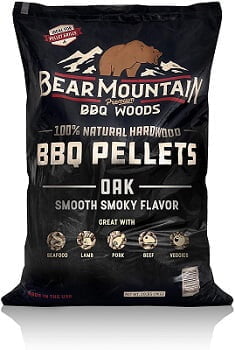 Dimensions: 14 x 4 x 20 inches
Weight: 20 pounds
If you are looking for fuel that can add some flavor to your food, this 100% all-natural premium hardwood may be your best solution.
Perfect for use with all outdoor pellets, gas, charcoal, or electric grills and smokers. 
This Bear Mountain pellets hardwood will infuse your food with all-natural, robust flavor and tenderness. Plus, the shipping process is so fast.
Pros
All-natural premium hardwood
No binders, fillers, or additives
All-natural, robust flavor and tenderness
20 lb bag
Made in the united states
Fast shipping
Cons
---
8. BioLite Premium Food-Safe Hardwood Pellets
Dimensions: 9.7 x 9.6 x 7 inches
Weight: 4.22 Kilograms
BioLite Wood Pellets are a premium hardwood blend that is sustainably sourced in the USA.
These food-safe grilling fuel pellets have a total burn time of 2 hours per bag. This value pack contains 4 bags for a total of 8 hours.
The boil capacity of these hardwood pellets is 15 liters during the 2-hour burn.
It's especially recommended for use with the BioLite CampStove or BioLite CookStove.
Pros
The pellets are made of premium hardwood
Total burn time of 8 hours.
The value pack contains 4 bags
The boil capacity is 15 liters during a 2-hour burn
They are food-safe
Can be used for grilling
Cons
Not recommended for all kinds of stoves
---
How to Start a Stove With Pellets?
If you have a stove that uses pellets, you may be wondering how to go about starting it. Here are a few tips to get you started:
Begin by making sure that your pellets are dry and free of any debris.
Next, you will need to find a good spot for your stove. It should be in a well-ventilated area so that the fumes from the pellets can dissipate.
Once you have found a good location, it's time to start your stove. Begin by igniting a small fire in the stove using some kindling.
Once the fire is going, slowly add in some of the pellets and keep adding pellets until the fire is the desired size.
To learn more you can read this article.
Can You Use Wood Pellets in A Fire Pit?
Wood pellets are a popular fuel for fire pits because they are an efficient and affordable way to create a warm, cozy fire. Wood pellets are made of compressed wood chips, so they light easily and produce minimal smoke. They also burn for a long time, making them a perfect choice for fires that need to last for hours.
Although wood pellets can be used in any type (wood, pellet, cast iron, metal fire pits) there are some things to keep in mind when using them.
Make sure the pellet size is appropriate for your fire pit; if the pellets are too large, they may not ignite properly or could cause damage to the pit itself.
Always use caution when starting a fire with wood pellets; like any other kind of fuel source, they can be dangerous if not handled correctly.
Remember that wood pellet fires generate heat rather than flames – so don't get too close!
However, there are some specific fire pits, stoves, and fireplaces designed for wood pellets that give the best output.
Frequently Asked Questions (FAQs)
What Are Wood Pellets?
Wood pellets are a type of fuel made from compressed wood shavings. They are a renewable and sustainable energy source that can be used in place of fossil fuels like coal and oil.
How Do Wood Pellets Work?
Wood pellets are burned in a stove or boiler to produce heat. The heat is then used to warm your home or to power appliances like a clothes dryer.
Are Wood Pellets Toxic to Burn?
Some experts argue that the toxins released by burning wood pellets can be harmful to your health. These toxins include carbon monoxide, benzene, and formaldehyde. All of these substances can cause respiratory problems and other health issues if you are exposed to them for an extended period of time.
However, other experts claim that the amount of toxins released by burning wood pellets is minimal and not dangerous at all. They argue that the benefits of using renewable energy sources outweigh any potential risks associated with burning wood pellets. In fact, they should be encouraged.
How Do I Choose the Right Wood Pellets for My Stove?
The type of wood pellet you choose will depend on the type of stove you have. Some stoves are designed to burn only certain types of pellets. Be sure to consult your stove's manufacturer to find out what type of pellet is best.
How Do I Store Wood Pellets?
Wood pellets should be stored in a dry, cool place. They should not be stored outside, as they will absorb moisture from the air and become difficult to burn.
What Are the Safety Precautions I Should Take When Using Wood Pellets?
As with any type of fuel, there are some safety precautions you should take when using wood pellets. Be sure to read and follow the instructions that come with your stove. Always keep a fire extinguisher nearby in case of an accident.
How Efficient Is a Pellet Stove?
A pellet stove is a great way to heat your home in a more efficient way. Instead of using oil or gas, pellet stoves use wood pellets as their source of fuel. Pellet stoves are also much cleaner than traditional wood-burning stoves, and they are easier to operate.
Can I Run My Pellet Stove Without Electricity?
Yes, you can. When your AC power goes out, your pellet stove will still operate. It will run on the battery backup for a limited time, depending on the size of the battery. You can also use a generator to power your pellet stove.
Do Wood Pellets Have Any Disadvantages?
Wood pellets are a type of wood fuel, typically made from compacted sawdust. They are generally made from wood waste from sawmilling and other wood products manufacturing, which would otherwise be left as waste. There are some disadvantages associated with wood pellets, however.
They can be more expensive than other types of wood fuel, such as firewood. They also have a higher moisture content than other types of wood fuel, which can make them more difficult to ignite and can produce more smoke.
Conclusion
After careful consideration, we have determined that the best wood pellets for stoves are the ones that are made from 100% natural hardwood. These pellets are free of any artificial binders or chemicals, and they burn cleaner and hotter than pellets that are made from softwoods or other materials.