Can You Burn Wood With Mold on It?
This article may contain affiliate links, which means if you make a purchase following our links won't cost you extra, but we may earn a commission. Learn more
Moldy wood, when ignited, releases mold spores and allergens into the air. These airborne particles can lead to various health issues, especially for those with respiratory problems or allergies.
If you're considering burning moldy wood outside, the open environment might disperse some of the harmful particles, but it's still a risk. Using moldy wood in a wood stove is even more concerning, as the confined space can concentrate the spores, making them more likely to be inhaled.
There's a slight difference in terminology between "moldy" and "mouldy", but the implications remain the same. Both refer to the presence of fungi on the wood, and neither is ideal for burning. Some might think that burning can eliminate mold from wood, but while fire can kill mold, the act of burning can still release the spores.
Safety should always be a priority. If your firewood shows signs of rot, mold, or mildew, it's advisable not to use it. Pressure-treated lumber, even if it appears fine, can also develop mold and rot over time.
Instead of burning moldy wood, consider other alternatives. Using clean, dry, and well-stored wood ensures a safer burning experience for everyone.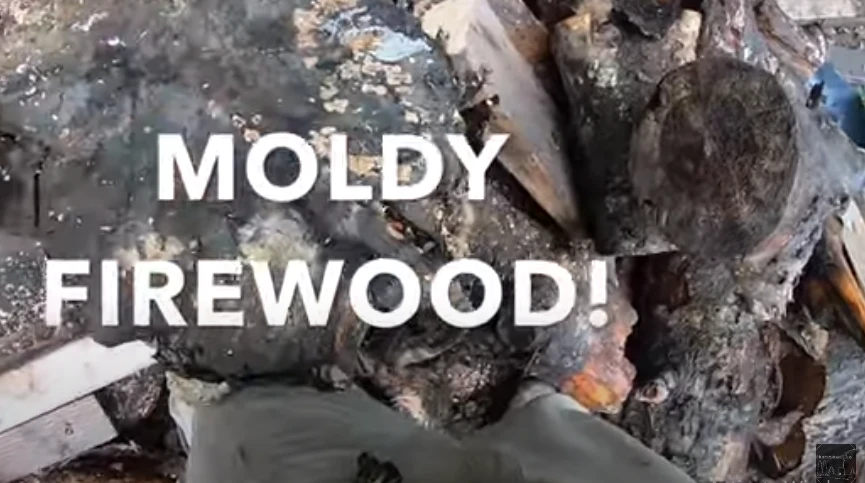 Mold on Firewood: A Closer Look
Mold on firewood often appears as a fuzzy, slimy, or powdery substance. Its color can vary, ranging from green, black, to white or even bluish.
The presence of mold indicates that the wood has been exposed to moisture for an extended period. Storing firewood in damp or humid conditions can accelerate mold growth.
Regularly inspecting your firewood, especially if stored in potentially damp locations, can help in early detection and prevention of mold spread.
Managing Moldy Firewood
Finding mold on your firewood might seem like a setback, especially if you've stored a significant amount.
While moldy firewood isn't ideal for burning, it's not entirely useless. If the mold is superficial, drying the wood in direct sunlight can help. The sun's ultraviolet rays can inhibit mold growth.
Rotating the wood ensures all sides receive adequate sunlight exposure. For extensive mold, consider repurposing the wood for non-burning uses.
Indoor vs. Outdoor Burning: The Impacts
Burning moldy wood, whether indoors or outdoors, has its set of challenges. Indoors, moldy wood releases spores that can degrade air quality, posing health risks. Those with respiratory conditions or allergies might be particularly vulnerable.
Burning outdoors might seem safer due to open space, but wind can carry spores to nearby areas, potentially affecting others.
Spotting Mold and Fungus: Key Differences
Mold and mildew, though similar, have distinct characteristics. Mold tends to be fuzzy or slimy, while mildew is powdery. White fungus on firewood is often a type of mold, while green mold is usually a sign of algae or moss.
Recognizing these differences can help in determining the best course of action for your firewood.
Mold vs. Heat: The Facts
Fire can kill mold, but burning moldy wood releases spores into the air. The temperature required to neutralize mold and mildew varies, but generally, mold spores can survive temperatures up to 140°F.
While fire can kill mold on the wood's surface, the act of burning disperses spores, which can be problematic.
Alternatives for Moldy Firewood
If burning isn't an option, there are other ways to manage moldy firewood. Consider using the wood for projects that don't involve burning.
Alternatively, moldy wood can be composted or used as mulch, provided it's not pressure-treated.
Concerns with Pressure-Treated Lumber
Pressure-treated lumber is designed to resist pests and decay, but it's not immune to mold or rot. Over time, even treated wood can succumb to these issues.
Burning treated wood, especially if moldy, can release harmful chemicals. It's best to avoid burning and find alternative uses or disposal methods for such wood.