Light a Fire on Wet Ground: Essential Tips for Success
This article may contain affiliate links, which means if you make a purchase following our links won't cost you extra, but we may earn a commission. Learn more
Starting a fire on wet ground is indeed possible, albeit challenging. With the right techniques and materials, you can overcome the damp conditions.
The first step to starting a fire on wet ground is to create a dry base. This can be achieved by laying down a layer of bark, branches, or even a small wooden platform. This will help to keep your firewood off the damp ground, providing a dry foundation for your fire.
Building a fire on wet ground or even damp ground requires a careful selection of firewood. Wet logs or wet wood may not be the best choice as they can smother your fire. Instead, look for dry wood, preferably dead branches that are off the ground. If all available wood is wet, try to find the driest pieces and use the inner parts, which are likely to be less damp.
Starting a fire after it rains or even during rain is a skill that can come in handy, especially for campers. A tarp or any waterproof material can be used to shield your fire from the rain. This will protect your fire and help it to burn steadily despite the wet conditions.
Starting a fire on wet sand follows the same principles. A dry base is crucial, and dry wood is preferable.
Remember, safety should always be your top priority. Always ensure you have control over the fire and that it is fully extinguished before leaving the site.
Related Post: The Best Fire Starter for Wet Weather: Unrivaled Solutions
What Materials Are Needed to Start a Fire on Wet Ground?
In order to start a fire on wet ground, it is important to understand the various materials needed for a successful fire. The most important of these materials are dry tinder, such as dry grass, leaves, wood chips, or bark.
This tinder should be placed in a pile and surrounded by kindling material such as small sticks, thin branches, or pine needles.
To get the fire going, a fire starter may be used, such as a lighter, a match, or a magnesium fire starter. The fire starter should be placed in the center of the tinder and kindling.
Once the fire is lit, the burning tinder and kindling can be used to light a larger fire and add more materials, such as logs or larger branches. In order to keep the fire burning, it is important to protect it from rain and wet ground.
This can be done by building a fire pit or by covering the fire with stones, logs, or other materials. Keeping the fire sheltered from the wind is also important and can help keep it burning longer.
It is important to always have a source of water nearby to put out the fire once it is no longer needed. Safety should always be the highest priority when starting a fire in any situation.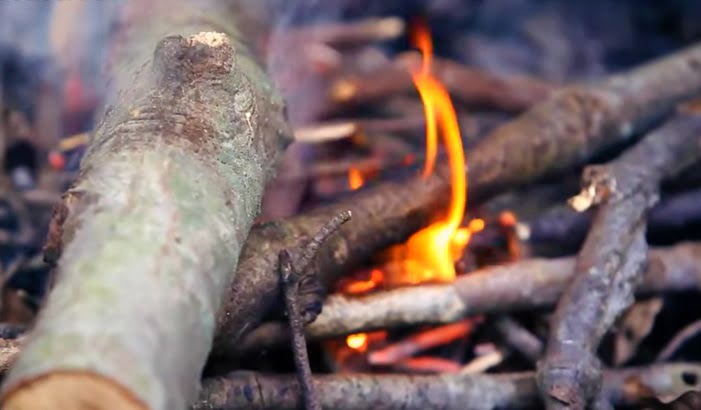 How to Gather and Prepare the Materials for a Fire on Wet Ground?
To start a fire on wet ground, it is necessary to gather and prepare appropriate materials in order to make a successful fire.
Materials Required:
• Kindling: Small twigs or wood pieces about the diameter of a pencil.
• Small sticks: Twigs or branches no wider than 2 inches.
• Dry leaves or grass: To be used as tinder.
• Large logs: About the diameter of your wrist.
• Lighter or matches: To light the fire.
Process:
• Gather the kindling and small sticks, making sure they are dry and free of moisture.
• Find dry leaves or grass and place them in a safe place, away from the fire.
• Collect larger logs and arrange them in a pile, making sure to keep them dry.
• Dig a small hole in the ground and fill it with dry leaves and grass.
• Place the kindling and small sticks on top of the dry leaves and grass in the hole.
• Top the kindling and small sticks with the larger logs.
• Light the kindling and small sticks with the lighter or matches.
• Once the fire is lit, add more logs as needed to keep it going.
Safety tips:
• Always wear protective gear such as gloves and safety glasses when gathering materials for a fire.
• Never leave a fire unattended.
• Be sure to extinguish the fire after use.
• Never use flammable liquids to start a fire.
Tips for Building and Maintaining a Fire on Wet Ground
On the wet ground, building and maintaining a fire can be tricky. To ensure success, it's important to choose the right kind of wood and to keep it dry.
1. Use dry wood: Wet wood will not burn easily and will smother a fire, so it's important to use only dry wood. If the wood is too wet, try to cut it into smaller pieces and dry it out over the fire or in the sun before attempting to start the fire.
2. Choose the right kind of wood: Hardwoods such as oak, hickory, and maple burn longer and are ideal for wet ground. Softwoods like pine, fir, and cedar burn quickly and can be used as kindling.
3. Keep the fire small: Building a small fire that is easier to control will help prevent it from burning out of control.
4. Use a fire starter: Using a fire starter such as dryer lint, wax or paper will help get the fire going quickly and easily.
5. Protect the fire from wind and rain: Use rocks, logs, or other materials to create a windbreak and keep the fire from getting wet.
how to make a fire when everything is wet
Starting a fire in wet conditions can be a challenging task. The dampness of the ground, leaves, and wood can make it seem impossible. But with the right knowledge and a bit of patience, it's entirely feasible.
1. The first step is to find or create a dry base. This could be a flat rock, a piece of bark, or even a platform made from sticks. This base will keep your fire off the wet ground and provide a dry area for it to grow.
2. Next, you need to gather your materials. Look for the driest wood you can find. Dead branches that are still attached to trees are often drier than those on the ground. If the outside of the wood is wet, you can split it open to access the dry wood inside.
3. Kindling is crucial for starting a fire. Small twigs and branches are ideal, but in wet conditions, these might be soaked. In this case, you can use a knife to shave off the wet outer layer of larger pieces of wood, revealing the dry wood underneath. These shavings can serve as excellent kindling.
4. Now it's time to build your fire. Start with a small pile of kindling in the center of your dry base. Then, arrange your larger pieces of wood around the kindling in a teepee or log cabin structure. This allows air to circulate and helps the fire to grow.
5. To light the fire, you'll need a reliable ignition source. Waterproof matches or a fire starter are ideal. Light the kindling, and gently blow on it to help the fire spread to the larger pieces of wood.
6. As the fire grows, continue to add larger pieces of wood, always ensuring there's enough air circulation. With patience and care, you'll have a roaring fire, even in the wettest conditions.
Remember, starting a fire in wet conditions requires more time and patience than in dry conditions. But with the right approach, it's entirely possible. Always ensure you're following safe fire practices and never leave a fire unattended.
Common Mistakes to Avoid When Starting a Fire on Wet Ground
Starting a fire on wet ground can be difficult, but not impossible. Here are some common mistakes to avoid.
Use Dry Material: Wet wood, leaves, and grass should be avoided. Instead, use dry twigs, bark, and other dry material.
Choose the Right Location: Look for an area with small rocks or stones that can be used to form a small wall around the fire. This will help to keep the fire going, as the heat and smoke will be trapped.
Make Sure the Ground is Dry: Before attempting to start a fire, make sure the ground is dry. If the ground is saturated, it will be difficult to get the fire going.
Create a Platform: It is important to create a platform for the fire. This can be done by using stones or logs to create a level surface.
Use Kindling: Kindling should be used to start the fire. This can include small twigs, paper, and other flammable materials.
Have a Fire Extinguisher Ready: It is important to have a fire extinguisher on hand in case the fire spreads.
Conclusion
Starting a fire on wet ground is possible, but it can be quite difficult. It requires a lot of effort and preparation, and the conditions must be just right. You need to clear the ground of wet leaves, twigs, and other damp material and then use dry tinder, kindling, and fuel to create the fire. With the right supplies and knowledge, you can indeed start a fire on wet ground.