Troubleshooting Common St Croix Pellet Stoves Problems
St Croix pellet stoves are often praised for their efficiency and warmth, but like all devices, they can occasionally face issues. Users commonly report some problems that might require attention.
Pellet stoves from St Croix have various models like Hastings and Auburn, each with its set of potential issues. One recurring problem is with the stove's auger, the mechanism responsible for feeding pellets into the burn pot. In some instances, the auger fails to operate properly, leading to insufficient pellet supply and thus inadequate heating.
The power light blinking is another signal that the stove might be experiencing complications. While this might simply indicate the need for routine maintenance or a minor fix, a flashing light can also point to more critical concerns that require immediate attention.
Specifically, when looking at models like the Hastings or the Auburn, users sometimes run into challenges unique to those designs. For both, troubleshooting can be essential to pinpoint the exact problem and find an effective solution.
St Croix pellet stove troubleshooting
St Croix pellet stoves offer warmth and efficiency, but like any appliance, they can face challenges. Two major causes lead to most of the problems: excessive ash accumulation and insufficient fuel. Recognizing these issues and knowing how to address them can prolong the life of the stove and ensure optimal performance.
Excessive Ash Accumulation
Causes: Pellet stoves inherently produce ash as pellets burn. Over time, if not cleaned regularly, ash can accumulate and clog various parts of the stove, leading to diminished performance or even malfunction.
Solutions:
1. Routine Maintenance: Regularly cleaning the stove, especially the ash pan, ensures that ash does not build up and impede the stove's operation.
2. Use High-Quality Pellets: Premium-quality pellets tend to produce less ash. Ensuring the pellets are of good quality can reduce the frequency of cleaning.
Insufficient Fuel in the Hopper
Causes: If the hopper, which stores pellets, is not adequately filled, the stove may not generate sufficient heat. An empty hopper can also cause the auger, the mechanism feeding the pellets, to malfunction.
Solutions:
1. Regular Monitoring: Check the hopper periodically and refill it before it gets too low. This ensures a constant and consistent fuel supply.
2. Auger Inspection: If the stove isn't feeding pellets despite a filled hopper, the auger might be jammed or malfunctioning. Clear any obstructions and consider replacing it if it's faulty.
Leaking Smells
Causes: Pellet stoves, while efficient, can sometimes emit unpleasant odors. This may arise from various factors, including incomplete combustion or issues with the exhaust system.
Solutions:
1. Ventilation Check: Ensure the stove's venting system is clear of obstructions and is sealing properly. Any gaps or blockages can cause odors to leak into the room.
2. Burn Pot Cleaning: An unclean burn pot might cause incomplete combustion, leading to unpleasant smells. Clean the burn pot thoroughly to ensure the pellets burn completely.
3. Gasket Inspection: Over time, gaskets can wear out or get damaged. A compromised gasket can be a source of leaks. Inspect regularly and replace if necessary.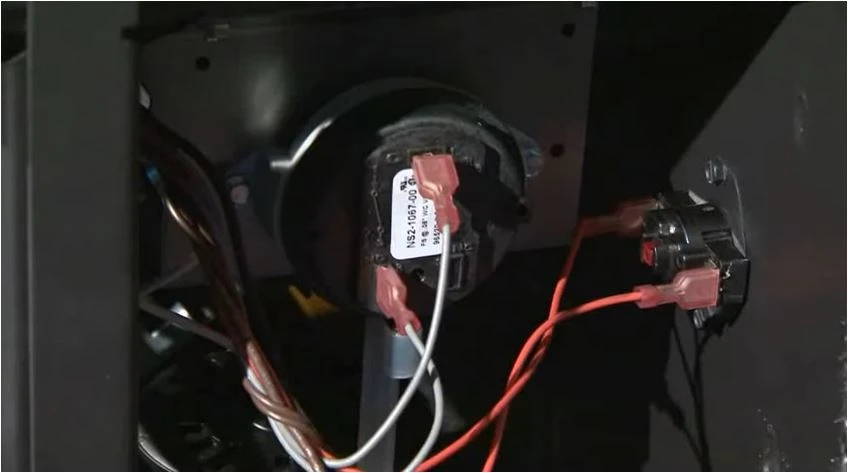 Auger Issues in St Croix Pellet Stoves
One of the most reported issues with St Croix pellet stoves is the auger malfunction. The auger plays a crucial role as it's responsible for feeding pellets from the hopper into the combustion chamber. Its smooth operation ensures consistent heating.
Pellets can sometimes jam the auger. Irregular pellet size, foreign objects in the pellet bag, or even sawdust accumulation can obstruct its motion. Over time, wear and tear can also cause the auger motor to fail or function improperly.
Solutions: Firstly, ensure that only high-quality pellets are used. These are less likely to jam the auger. Regularly inspect the auger for any debris or obstructions. Cleaning the auger and its surrounding area can often resolve minor blockages.
If the motor seems to be the issue, consulting with a professional or the manufacturer for repair or replacement is recommended.
Learn More: Vogelzang Pellet Stove Troubleshooting: Problems and Error Codes
Power Light Blinking on St Croix Pellet Stoves
A blinking power light on St Croix pellet stoves can be concerning for users. This light often serves as a diagnostic tool, indicating potential issues.
A power surge, a minor glitch in the stove's system, or a significant malfunction can result in the power light flashing. Specific patterns in blinking might point towards distinct issues as per the stove's user manual.
Solutions: Initially, try resetting the stove by turning it off, waiting for a few minutes, and then turning it back on. This can sometimes rectify minor glitches. Regular maintenance, like cleaning ash traps, inspecting venting systems, and checking electrical connections, can also prevent this issue.
If the blinking persists and follows a specific pattern, refer to the stove's user manual for more detailed troubleshooting or contact a certified technician for a more in-depth inspection and solution.
FAQs on St Croix Pellet Stoves
Why is my stove not igniting?
A stove might not ignite due to a lack of pellets, a defective igniter, or an airflow issue. Ensure the hopper has enough pellets. If the igniter seems faulty, it may need replacement. Cleaning the stove regularly can improve airflow, aiding in efficient ignition.
Why does the stove produce excessive smoke?
Blocked vents or poor-quality pellets can lead to excessive smoke production. Check and clean the vents to ensure proper ventilation. Using high-quality pellets can also reduce smoke.
How often should I clean the stove?
Cleaning frequency depends on usage. Regular users should consider weekly cleaning, while occasional users can clean it once a month.
Why is my stove making a loud noise?
A noisy stove can result from a malfunctioning blower or a loose internal component. Inspecting the blower and securing any loose components can minimize the noise.
Why does the glass get blackened quickly?
Blackened glass often results from incomplete combustion. Regular cleaning and ensuring good pellet quality can improve combustion and keep the glass cleaner.
Can I leave the stove on overnight?
Yes, St Croix pellet stoves are designed for prolonged use. Ensure there are enough pellets in the hopper and safety measures are in place.
Why is there an unpleasant odor?
Odors can arise from various factors, including new stove usage or issues with the exhaust system. Initial odors during the first few burns are normal. If the smell persists, checking the exhaust and using high-quality pellets can help.