Easy Ways to Remove Sticky Oil Residue from Cast Iron
This article may contain affiliate links, which means if you make a purchase following our links won't cost you extra, but we may earn a commission. Learn more
Sticky oil on cast iron is often a result of excessive oil buildup. This stickiness can compromise the pan's performance and longevity.
Cast iron pans are revered for their durability and even heat distribution. Yet, they can sometimes become sticky due to improper seasoning or maintenance. This stickiness is typically caused by an accumulation of oil that hasn't fully polymerized. Polymerization is a process where the oil transforms into a hard, protective layer on the pan. If this process isn't complete, the pan can feel tacky to the touch.
To address this, there are a few tried and true methods. Lightly coating the skillet with vegetable oil and spreading it evenly with a paper towel ensures that the pan isn't oversaturated. If the pan remains sticky, it might be overseasoned.
A remedy for this is to heat the pan in an oven set to 450-500°F, allowing the excess oil to drip off. Another effective method to combat the residue is a simple scrub using salt and oil. This abrasive mixture can help lift the sticky oil, restoring the pan's surface.
For those looking for alternatives in seasoning, flaxseed oil is a worthy consideration due to its high smoke point and ability to create a durable seasoning layer. Proper care and attention to seasoning can ensure that your cast iron remains a kitchen favorite for years to come.
Roots of Cast Iron Stickiness
Cast iron pans are a staple in many kitchens due to their durability and ability to retain heat. Yet, a common issue faced by many is the stickiness that develops on the surface. This stickiness primarily arises from an excessive buildup of oil.
The process of oil turning into a protective layer on the pan is known as polymerization. If the oil doesn't fully polymerize, it results in a tacky surface.
Seasoning plays a pivotal role in maintaining the cast iron. It not only protects the pan but also aids in creating a non-stick surface. Proper seasoning ensures that the oil polymerizes correctly, preventing the pan from becoming sticky.
Overseasoning: Signs and Solutions
Overseasoning is a frequent culprit behind the stickiness of cast iron pans. Signs include a thick, gummy layer on the pan or uneven, patchy spots. This not only affects the pan's performance but can also damage its surface over time.
To address this, one can gently scrub the pan with a mixture of coarse salt and a little oil, which acts as a mild abrasive.
Another method involves heating the pan in an oven to allow the excess oil to drip off, ensuring the seasoning is even.
Read More: 6 Best Griddle for Tortillas
Methods to Remove Sticky Oil Residue from Cast Iron
Sticky oil residue on cast iron can be a challenge, but with the right techniques, it's manageable. Here are some effective methods to tackle this issue and restore your cast iron to its prime condition.
Using Salt and Oil Scrubbing Technique
Step 1: Gather coarse salt and a small amount of cooking oil. Ensure the pan is slightly warm to the touch.
Step 2: Pour a generous amount of salt into the pan, followed by the oil.
Step 3: Using a cloth or paper towel, scrub the pan vigorously. The abrasive nature of the salt combined with the oil helps lift off the sticky residue.
Step 4: Rinse the pan with warm water and dry it thoroughly to prevent rusting.
Heating the Pan to High Temperatures
Step 1: Preheat your oven to a temperature range of 450-500°F.
Step 2: Place the cast iron pan upside down in the oven. This position allows the excess oil to drip off.
Step 3: Let the pan heat for about an hour. This process helps to remove any sticky residue and aids in the polymerization of the remaining oil.
Step 4: Remove the pan from the oven and let it cool. Wipe away any excess oil that may have pooled.
Evenly Spreading Oil During Seasoning
Step 1: Start with a clean, dry pan. Warm it slightly on the stovetop.
Step 2: Apply a thin layer of your chosen oil to the entire surface of the pan, both inside and out.
Step 3: Using a paper towel or cloth, spread the oil evenly across the pan. This ensures that there are no spots with excessive oil, which can lead to stickiness.
Step 4: Proceed with your usual seasoning method, whether it's baking in the oven or on the stovetop. An even coat of oil ensures a smooth, non-sticky surface after seasoning.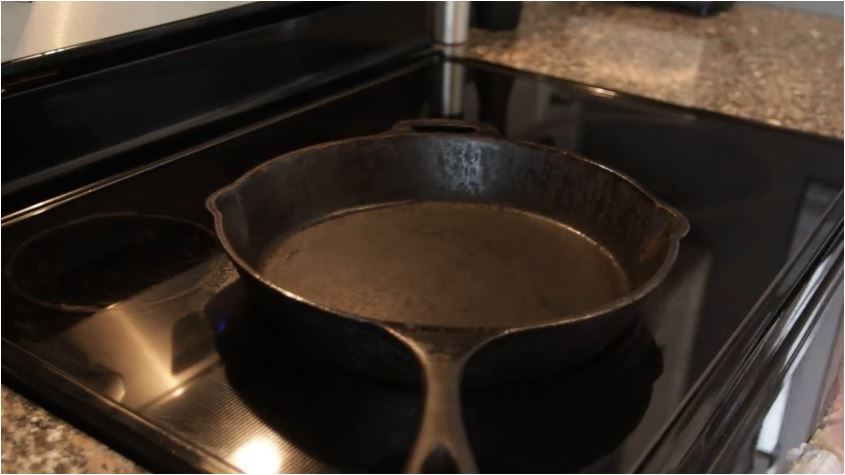 Selecting the Ideal Seasoning Oil
The choice of oil can significantly influence the outcome of the seasoning process. Vegetable oil is a popular choice due to its availability and effectiveness.
Flaxseed oil, on the other hand, stands out for its high smoke point and ability to form a durable seasoning layer. Different oils have varying properties, and their impact on seasoning can differ.
It's essential to choose an oil that complements the cast iron's needs and ensures a smooth, non-sticky surface.
FAQs
Why Does My Cast Iron Feel Tacky After Cleaning?
The tackiness often results from oil that hasn't fully polymerized on the pan's surface. If the oil isn't heated long enough or at the right temperature, it won't form the protective layer, leaving a sticky residue.
Can Sticky Residue Affect the Taste of Food?
Yes, a sticky residue can impart an off-flavor to foods cooked on the pan. The incomplete polymerization can lead to a rancid taste, especially if the oil has started to break down.
Is It Safe to Cook on a Sticky Cast Iron Pan?
While it's not harmful, it's not ideal. The sticky surface can cause foods to stick, and as mentioned, it can affect the flavor. It's best to address the stickiness before regular cooking.
How Often Should I Season My Cast Iron to Prevent Stickiness?
Regular maintenance is key. After each use, clean and apply a thin layer of oil. Full seasoning in the oven can be done a few times a year or if you notice food starting to stick.
Does the Type of Food I Cook Contribute to Stickiness?
Certain foods, especially acidic ones like tomatoes, can break down the seasoning. Over time, this can contribute to stickiness. It's essential to re-season the pan after cooking acidic dishes.
Will Using Soap Remove the Seasoning and Cause Stickiness?
Mild soap won't harm the seasoning. However, aggressive scrubbing or using strong detergents can strip the protective layer, potentially leading to stickiness.
How Can I Prevent Stickiness in the First Place?
Proper seasoning is the first step. Ensure you're using the right oil and allowing it to fully polymerize. Regular maintenance, like cleaning and applying a thin oil layer after each use, also helps. Avoid cooking acidic foods frequently, and if you do, consider re-seasoning afterward.