Wood Stove Smoking When Door Is Closed! What to Do?
Wood stove smoking when the door is closed can have significant impacts on indoor air quality. The release of carbon monoxide, even if not visible as smoke, poses health risks, especially with closed doors during stove operation.
Using wet or unseasoned firewood in a wood stove often results in excessive smoke production. This is because moisture in the wood hinders its efficient combustion. Adjusting the draft excessively can also lead to smoke issues. If the draft is set too low, the slow-moving smoke might be forced back into the home rather than being vented outside. This backflow can also occur due to cold air pushing down the chimney.
Routine maintenance can help mitigate these problems. For wood stoves equipped with a catalytic combustor, periodic removal, and cleaning can enhance its function. It's also vital to ensure the damper remains open and to check for any obstructions in the chimney that might impede the proper venting of smoke.
Some users might notice their wood burner emitting smoke upon opening the door or the fire extinguishing when the door is shut. These situations can be linked to draft settings, wood conditions, or blockages in the chimney. Regular checks and maintenance are essential to ensure the safe and efficient operation of wood stoves.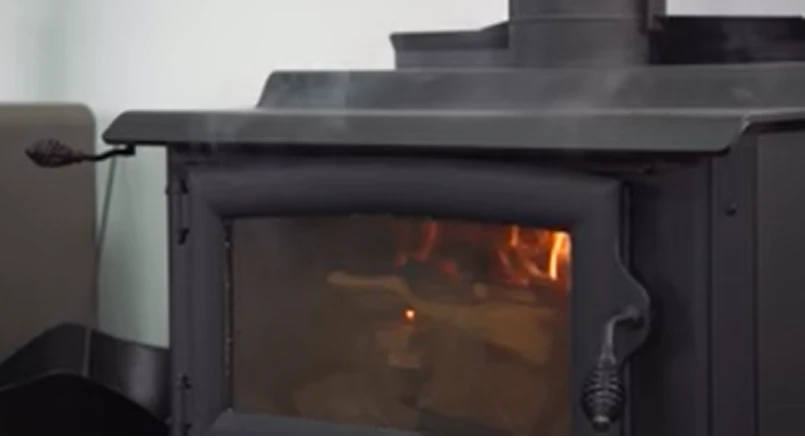 why wood stoves smoke when the door is closed, and how to fix them
Wood stoves are efficient heating systems, but they can sometimes produce smoke when the door is closed. This can be due to various reasons, each with its specific solution. Here are some common causes and their respective remedies:
1. Wet or Unseasoned Firewood
Using firewood that's wet or not adequately seasoned can lead to inefficient combustion, resulting in smoke.
Always use dry, seasoned wood for burning. Seasoned wood has been dried for at least six months and has a moisture content of less than 20%. Investing in a wood moisture meter can help determine if the wood is ready for burning.
2. Inadequate Draft
If the draft is set too low, the smoke may move slowly, causing it to push back into the home.
Adjust the draft settings to ensure proper airflow. Regularly check and clean the chimney to ensure unobstructed airflow. A chimney cap can also prevent external factors like wind from affecting the draft.
3. Cold Air in the Chimney
Cold air can force smoke back into the house instead of allowing it to vent outside. Before lighting the fire, warm up the chimney by burning some newspaper or kindling. This will help establish an upward draft, ensuring the smoke moves in the right direction.
4. Blocked Chimney
A blocked chimney can prevent smoke from escaping, causing it to enter the home. Regularly inspect and clean the chimney to remove any obstructions like bird nests, leaves, or creosote buildup. Hiring a professional chimney sweep annually can ensure the chimney is clean and safe for use.
5. Closed Damper
If the damper is closed, it can restrict the flow of smoke, forcing it back into the room. Always check the damper before lighting the stove. It should be in the open position when the stove is in use and closed only when the stove is not in operation to prevent drafts.
6. Malfunctioning Catalytic Combustor
A catalytic combustor helps in reducing smoke emissions. If it's malfunctioning or dirty, it can lead to increased smoke. Periodically remove the catalytic combustor and clean it as per the manufacturer's guidelines. If it's damaged, consider replacing it to ensure efficient operation.
Starting Troubles: Wood Stove Smoke Issues
Initiating a wood stove can sometimes result in smoke, especially if the process isn't done correctly. The primary reason for this is the use of wet or unseasoned firewood. Such wood has a high moisture content, which hinders efficient combustion, leading to smoke.
To mitigate this, always ensure that the wood is dry and seasoned for at least six months. Another factor could be cold air inside the chimney, which can push the smoke back into the room.
Warming up the chimney by burning some newspaper or kindling before lighting the stove can help establish an upward draft, directing the smoke outside.
Log Burner Smoke: Room Invasion
A log burner filling a room with smoke is not just inconvenient but also hazardous. One of the main reasons for this issue is a blocked or partially obstructed chimney. Over time, soot, creosote, and other debris can accumulate, restricting the flow of smoke.
Regular chimney cleaning can prevent this buildup. Another reason could be the damper's position. If the damper is closed or not fully open, it can restrict the smoke's exit.
Always ensure the damper is open before lighting the stove. Proper ventilation in the room can also play a significant role. Ensure there's adequate airflow to assist in the efficient operation of the log burner.
Read Also: 5 Common Wood Stove in Basement Problems That You Need to Know
Health Implications of Wood-Burning Fireplaces
Wood-burning fireplaces offer warmth and ambiance, but they also come with health considerations. The smoke produced contains a mix of gases and fine particles that can harm your health if inhaled.
Prolonged exposure can lead to respiratory issues, especially in children, the elderly, and those with pre-existing conditions. Carbon monoxide, a colorless and odorless gas produced during combustion, can be particularly dangerous if it accumulates indoors. To ensure safety, always use dry, seasoned wood, as it produces less smoke.
Regular maintenance, including cleaning the chimney and ensuring proper ventilation, can reduce smoke and gas emissions. Installing carbon monoxide detectors in your home can provide an added layer of safety, alerting you to any potential dangers.