Best Fireplace Draft Stopper- Top 6 Choices
This article may contain affiliate links, which means if you make a purchase following our links won't cost you extra, but we may earn a commission. Learn more
A fireplace draft stopper serves as an essential tool for homeowners seeking to enhance their home's energy efficiency. It effectively seals the fireplace when not in use, preventing cold air from entering and warm air from escaping. The best fireplace draft stopper fits snugly within the chimney or fireplace opening, acting as a barrier against drafts.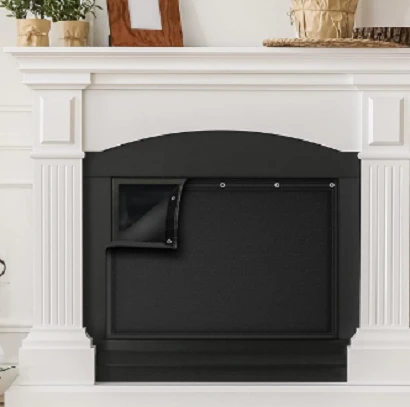 For those experiencing unwanted airflow, a chimney draft blocker can be a simple yet effective solution. To prevent fireplace drafts, these stoppers come in various materials and sizes, ensuring a perfect fit for any chimney. For the crafty homeowner, creating a DIY chimney draft stopper can be a cost-effective alternative.
Whether you choose to purchase or make your own, a fireplace air blocker is a smart investment for reducing energy costs and increasing comfort.
CADARA Fireplace Blocker Blanket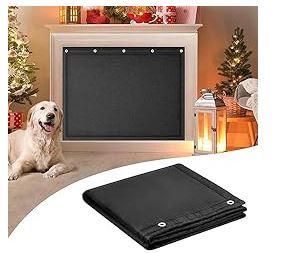 Maximizing Home Efficiency with a Fireplace Draft Stopper
Investing in the best fireplace draft stopper can significantly enhance your home's energy efficiency. These stoppers serve as a barrier, preventing the escape of warm air from your home and blocking the intrusion of cold air through the chimney. The result is a noticeable reduction in heating costs, as your system doesn't have to work overtime to maintain a comfortable temperature.
Draft stoppers can minimize the amount of outside noise that enters through the fireplace, contributing to a quieter, more peaceful home environment. They also deter pests and debris from entering, which can be particularly beneficial during the off-season when the fireplace is not in use.
With a variety of materials available, from inflatable pillows to rigid foam or fiberglass, there's a draft stopper to fit every type of fireplace, ensuring that your home remains a sanctuary of comfort regardless of the season.
1. MayPal Fireplace Draft Stopper
The MayPal Fireplace Cover is a top-tier solution for homeowners who prioritize safety and energy efficiency. Designed with an aluminum film and a fireproof fiberglass mesh layer, this fireplace cover ensures maximum fire resistance.
Its high-density thickened Oxford cloth, filled with double-layer cotton felt, offers windproof, waterproof, and dustproof properties. The cutting lines are meticulously crafted to prevent the inner layer from shifting, enhancing its durability.
Available in two sizes, the MayPal cover provides two assembly options, ensuring a perfect fit for various fireplaces. It's not just about energy conservation; this cover also protects against charcoal splatters, keeping your floor pristine.
Special Feature: Aluminum film with fireproof fiberglass mesh layer
Material: Aluminum, Oxford cloth
Dimensions: 1 x 39 x 32 inches
Size: 39″W * 32″H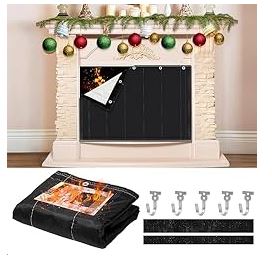 MayPal Fireplace Draft Stopper
Why Best
Boosted fire resistance
Windproof and waterproof
Durable Oxford cloth construction
Versatile assembly options
Charcoal splatter protection
Compatible For
Various fireplace sizes
Indoor and outdoor fireplaces
Where Need to Improve
Limited color options
Velcro straps may wear out
---
2. Wintcomfort Fireplace Draft Stopper Blanket
Wintcomfort presents a Fireplace Draft Stopper Blanket that's both functional and aesthetically pleasing. This energy-saving tool is designed to prevent heat loss during winter and block cold air in summer, optimizing indoor comfort.
Made of two layers of thick Oxford cloth and two layers of insulation material, it offers excellent insulation for your fireplace chimney. Its easy installation process, combined with its stylish black/grey appearance, ensures it blends seamlessly with your home decor.
The Wintcomfort blanket is available in three sizes, each providing a snug fit and effective insulation. Remember, this product is not for use with an active fireplace log set.
Special Feature: 4 layers of high-quality insulation
Material: Oxford cloth
Size: Large 51″ W x 39″ H
Wintcomfort Fireplace Draft Stopper Blanket
Why Best
Superior insulation performance
Blocks unwanted airflow and odor
Durable multi-layer construction
Easy installation and removal
Stylish black/grey appearance
Compatible For
Multiple fireplace sizes
Traditional and modern home decor
Where Need to Improve
Must cool fireplace before use
---
3. CADARA Fireplace Blocker Blanket
This innovative solution is designed to stop overnight heat loss, ensuring your living space remains cozy and your energy bills stay low. Crafted from durable 600D Oxford cloth and reinforced with two layers of cotton, this fireplace draft stopper excels in sealing off drafts, odors, and debris.
Its versatility shines with three installation methods—magnetic hook, ordinary hook, or Velcro—making it suitable for any fireplace setup. When not in use, it rolls up effortlessly for convenient storage, and its sleek black design seamlessly integrates with your fireplace, maintaining the aesthetic of your living space.
Special Feature: 3 installation methods, easy storage
Capacity: Blocks drafts, odors, debris
Material: 600D Oxford cloth, cotton layers
Dimensions: 46″ W x 35″ H
Weight: 3.47 pounds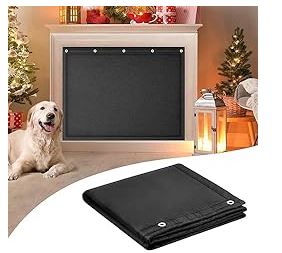 CADARA Fireplace Blocker Blanket
Why Best
Saves energy and money
Blocks cold drafts and heat
Easy to install and remove
Durable and waterproof
Unnoticeable black design
Compatible For
Metal, brick, stone fireplaces
Year-round insulation needs
Various fireplace sizes
Where Need to Improve
---
4. TOHONFOO Magnetic Fireplace Cover
Elevate your fireplace's efficiency with the TOHONFOO Magnetic Fireplace Cover. This three-layer insulated cover is designed to keep out drafts and save on heating bills.
Made from heavy-duty 600D Oxford Fabric, thickened cotton, and insulating aluminum foil, it promises durability and top-notch insulation. The magnetic edges ensure a secure fit, while its all-black design adds a touch of elegance to your fireplace.
Whether you're looking to baby-proof your fireplace or simply want to enhance its efficiency, this cover is the perfect solution.
Special Feature: Three-layer insulation
Material: Aluminum, Metal, 600D Oxford Fabric
Dimensions: 13.43 x 9.09 x 2.44 inches
Size: Standard
TOHONFOO Magnetic Fireplace Cover
Why Best
Superior three-layer insulation
Strong magnetic edges for a secure fit
Elegant black design
Multi-functional (baby-proofing)
Saves on heating bills
Compatible For
Metal fireplaces
Non-metal fireplaces with Velcro/hooks
Indoor chimneys
Where Need to Improve
Size measurement crucial before purchase
Must be used only after fireplace cools
---
5. Neattec Magnetic Fireplace Draft Stopper
The Neattec Magnetic Fireplace Draft Stopper is a game-changer for homeowners who prioritize energy efficiency. Designed to combat the challenges of fluctuating temperatures, this draft stopper ensures your home remains cozy during winter and cool during summer.
Its magnetic design offers a hassle-free application, making it an ideal choice for those who value both functionality and aesthetics. Moreover, it acts as a barrier against unwanted pollen and dust, making it a boon for allergy sufferers.
With its sleek design, it not only serves its purpose but also enhances the beauty of your fireplace.
Special Feature: Improved insulation for all seasons
Material: Metal
Dimensions: 36 x 4 x 0.03 inches
Size: 36×4″
Neattec Magnetic Fireplace Draft Stopper
Why Best
Eliminates winter weather drafts
Enhances energy efficiency
Reduces pollen and dust entry
Magnetic design for easy use
Blends seamlessly with fireplace
Compatible For
Wood-burning fireplaces
Gas fireplaces
Magnetic vents
Where Need to Improve
Needs stronger adhesive properties
Ensure magnets are evenly distributed
---
6. HOMWMPA Fireplace Blanket
The HOMWMPA Fireplace Blanket is an embodiment of innovation and practicality. Crafted to prevent indoor air loss, it ensures your home remains warm during the chilly months and cool during the scorching summer.
Its multi-purpose design not only prevents drafts but also keeps out odors, debris, and dust, ensuring a fresh ambiance. Made from thick oxford cloth and high-quality polyester fiberfill, it promises durability and effective insulation.
Its versatile installation methods and aesthetic design make it a must-have for every fireplace owner.
Special Feature: Multi-purpose design
Material: Oxford cloth and polyester fiberfill
Dimensions: 11.8 x 14.96 x 0.09 inches
Size: 51″ x 39″
Why Best
Prevents heat and cold air loss
Blocks odors, debris, and dust
Two versatile installation methods
Durable and effective insulation
Aesthetically pleasing design
Compatible For
Traditional fireplaces
Modern fireplaces
Indoor chimneys
Where Need to Improve
Provide clearer installation instructions
---
Essential Guide to Selecting Your Fireplace Draft Stopper
Navigating the market for the best fireplace draft stopper can be straightforward with the right information. This buying guide will outline the key features to consider ensuring you make an informed decision.
Material Durability
Choose a draft stopper made from materials that can endure high temperatures and frequent use. Silicone, fiberglass, and ceramic wool are top contenders for their resilience and insulating abilities.
Size and Fit
A proper fit is vital. Measure your fireplace opening accurately and look for products that can be adjusted or trimmed without losing their sealing properties.
Ease of Installation
Opt for a draft stopper that offers a hassle-free installation. Many options require no tools and can be placed or inflated without professional assistance.
Insulation and Energy Efficiency
The primary function of a draft stopper is to improve home energy efficiency. Check the product's insulation rating to ensure it will provide a significant barrier against drafts.
Aesthetics
While functionality is key, you don't have to sacrifice style. Many draft stoppers come in various colors and designs to complement your home decor.
Maintenance and Cleanliness
Consider how easy the draft stopper is to clean and maintain. A washable cover can be a convenient feature, ensuring your stopper remains hygienic and durable over time.
Seamless Fireplace Draft Stopper Installation
Installing a fireplace draft stopper is a straightforward process that homeowners can often undertake without professional help. The key is to select the right size and material for your specific fireplace.
Begin by measuring the dimensions of your fireplace opening to ensure a snug fit for the stopper. Most draft stoppers come with clear instructions and require minimal tools for installation. For inflatable types, it's as simple as placing the stopper inside the fireplace opening and inflating it until it seals the space tightly.
For rigid inserts, you may need to trim the material to fit before wedging it into place. Once installed, you should notice an immediate difference in the stability of your indoor temperature and a decrease in drafts.
Remember to remove the stopper before using the fireplace, and check it periodically for any signs of wear or damage.
Crafting a Custom Fireplace Draft Stopper
Creating a DIY fireplace draft stopper can be a rewarding project that adds a personal touch to your home's energy-saving efforts. With basic materials like upholstery fabric, insulating foam, and a few tools, you can craft a custom stopper that reflects your style while serving its purpose.
Start by choosing a fabric that complements your decor and is durable enough to withstand the demands of blocking drafts. Cut the fabric to the size of your fireplace opening, leaving extra room for seams and stuffing. Sew the fabric into a pouch and fill it with your chosen insulating material, such as foam or even repurposed textiles.
For a more structured stopper, you can construct a wooden frame and attach the fabric, ensuring it fits snugly into your fireplace.
Not only does this project provide an effective solution to prevent drafts, but it also allows you to recycle materials, reduce waste, and potentially save on the costs of a store-bought alternative.
Precision Fit for Draft Stoppers
Ensuring a precise fit for your fireplace draft stopper is paramount to its effectiveness. Begin by measuring the width and height of the fireplace opening, taking note of any irregularities in shape.
It's essential to measure the depth of the opening as well, as some draft stoppers may need to anchor securely within the space. Consider any additional features of your fireplace, such as a damper handle or gas lines, which may affect the fit of the stopper. A well-fitted draft stopper should cover the entire opening without gaps that could allow air to pass through.
For those with unique fireplace dimensions, custom solutions are available that can be tailored to the specific measurements, ensuring a perfect seal and maximum efficiency in preventing drafts.
Elevating Home Energy Efficiency
Fireplace draft stoppers play a critical role in elevating a home's energy efficiency. By sealing off the chimney when the fireplace is not in use, they prevent interior air from escaping and outdoor air from infiltrating.
This not only maintains a comfortable indoor climate but also reduces the workload on heating systems, leading to lower energy consumption and utility bills. The insulating properties of draft stoppers also contribute to a consistent room temperature, which can be particularly beneficial in homes with large open spaces.
With energy costs on the rise, a draft stopper is a cost-effective measure that can have a significant impact on a home's energy footprint.
Sustaining Your Draft Stopper
Regular maintenance of your fireplace draft stopper is essential to ensure its longevity and performance. Inspect the stopper periodically for signs of wear and tear, such as cracks or deterioration, which could compromise its seal.
Cleaning the stopper according to the manufacturer's instructions will prevent the buildup of soot and debris, which could affect its function. For inflatable stoppers, check for any air leaks that could cause deflation.
For rigid foam or fiberglass models, ensure they remain firmly in place and adjust as needed. Proper care will not only extend the life of your draft stopper but also maintain its efficiency in keeping your home warm and draft-free.
Strategies to Halt Fireplace Drafts
To prevent fireplace drafts, a multi-faceted approach is often necessary. Alongside the installation of a draft stopper, consider additional strategies such as weatherstripping around the fireplace doors or using a heat-resistant sealant for any gaps in the masonry.
During the warmer months, ensure the damper is securely closed to prevent air exchange. For added insulation, a glass fireplace door can provide an extra layer of protection against drafts. Regular chimney inspections can also identify any structural issues that may contribute to drafts, allowing for timely repairs.
By combining these methods with a quality draft stopper, you can effectively minimize unwanted airflow and enhance the comfort of your living space.
FAQs
What Are the Best Materials for Fireplace Draft Stoppers?
The best materials for fireplace draft stoppers are those that can withstand high temperatures and provide a tight seal. Fiberglass, ceramic wool, and silicone are top choices due to their durability and insulating properties. These materials are designed to block airflow effectively while being resistant to the occasional heat exposure when the fireplace is used.
Can Fireplace Draft Stoppers Be Left in Place All Year?
Yes, fireplace draft stoppers can be left in place all year, but it's advisable to remove them before lighting a fire. During the warmer months, they serve as an excellent barrier against insects and can help maintain a cool indoor temperature by preventing hot air from entering.
Do Fireplace Draft Stoppers Help with Energy Bills?
Absolutely, fireplace draft stoppers can help reduce energy bills by preventing the loss of heated or cooled air from your home. By creating a seal in the fireplace, they minimize the workload on your HVAC system, leading to more efficient energy use and lower costs.
Are Fireplace Draft Stoppers Safe to Use?
Fireplace draft stoppers are safe to use as long as they are installed correctly and made from non-combustible materials. It's crucial to ensure that the stopper is removed before starting a fire to prevent any risk of fumes or fire hazards.
How Do I Measure My Fireplace for a Draft Stopper?
To measure your fireplace for a draft stopper, measure the width and height of the front of your fireplace opening. Add an extra inch to both measurements to ensure a snug fit that can accommodate any irregularities in the shape of the opening.
Image Credit: Amazon.com