The Best Canister Stoves- Top 4 Picks
This article may contain affiliate links, which means if you make a purchase following our links won't cost you extra, but we may earn a commission. Learn more
Selecting the ideal canister stove is essential for outdoor enthusiasts. For backpacking adventures, the best ultralight canister stove offers convenience without adding weight. Cold weather poses challenges, but the top canister stove designed for chilly conditions ensures consistent performance.
Cooking outdoors requires efficiency; hence, the best gas canister stove is preferred by many. Pairing it with the best canister stove pot enhances the cooking experience. Remote canister stoves provide flexibility, while inverted canister stoves are known for fuel efficiency.
With numerous options available, finding the perfect fit for individual needs ensures a satisfying outdoor culinary experience.
Optimus Vega 4-Season Canister Stove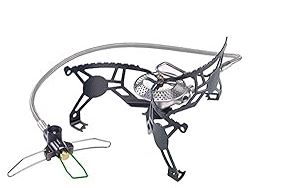 Top Benefits of the Best Canister Stove
The outdoor realm is vast, and the tools we use can make or break our experience. Among the most sought-after tools for outdoor enthusiasts is the canister stove, and for good reason.
The best canister stove offers unparalleled convenience. Lightweight and compact, it's a breeze to pack and doesn't weigh down your backpack. Its efficiency is another major plus.
With rapid boil times and consistent heat output, meals get prepared in a jiffy, saving time and fuel.
The simplicity of its design means fewer parts to malfunction, ensuring reliability in the great outdoors.
1. Optimus Vega 4-Season Canister Stove
The Optimus Vega 4-Season Canister Stove is a versatile and efficient cooking companion for outdoor enthusiasts.
Designed to perform in varying weather conditions, this stove offers a dual-mode feature, allowing users to switch between efficiency and 4-season mode. Its wide burner head ensures even cooking, preventing spot burning. The stove's low-profile design ensures stability on uneven terrains, making it a reliable choice for campers and trekkers.
With a powerful energy output and impressive burn capacity, the Optimus Vega ensures that you have a warm meal ready in no time, even in challenging environments.
Special Feature: Dual Mode – Efficiency and 4-Season
Capacity: 160-minute burn capacity (using a 230g canister)
Material: Synthetic
Dimensions: 5.1″L x 2.8″W x 2.6″H
Weight: 6.28 Ounces
Key Features
Dual Mode for varied conditions
Wide burner for even cooking
Ultra-light and compact design
Powerful energy output
Includes windscreen and stuff sack
Optimus Vega 4-Season Canister Stove
Compatible For
4-season camping
Precision cooking
Large pans or pots
Where Need to Improve
Shipping costs to certain locations
Limited to specific fuel types
The Optimus Vega 4-Season Canister Stove is a game-changer for outdoor cooking. Its dual-mode feature and wide burner head make it perfect for campers seeking efficiency and versatility in their cooking gear.
---
2. SOTO WindMaster Stove with 4Flex
The SOTO WindMaster Stove is a testament to innovation and functionality. Designed to withstand windy conditions, this stove boasts a built-in windscreen and a micro regulator valve system.
Its compatibility with both large and small pots makes it a versatile choice for different cooking needs. The stove's shock-resistant feature, combined with its ultra-lightweight design, ensures durability without compromising on portability.
With a consistent output, even in gusty weather, the WindMaster ensures that your boiling times remain unaffected. Its unique burner design increases fuel efficiency, making it a sustainable choice for the environment-conscious camper.
Special Feature: Built-in Windscreen and Micro Regulator Valve System
Capacity: Burns approx. 1.5 hours with 8 oz. (250g) canister
Material: Plastic
Dimensions: 0.71″L x 6.5″W x 4″H
Weight: 87 Grams
Key Features
Built-in windscreen for windy conditions
Ultra-lightweight and shock-resistant
Consistent output in varying temperatures
Supports both large and small pots
Efficient fuel consumption design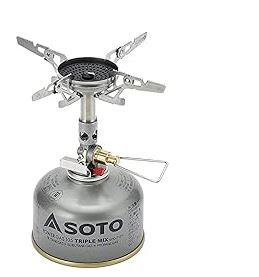 SOTO WindMaster Stove with 4Flex
Compatible For
Windy and gusty weather cooking
Large and small cookware
Butane, isobutane, and propane gas mixtures
Where Need to Improve
Requires careful maintenance for the valve system
The SOTO WindMaster Stove stands out for its wind-resistant design and consistent performance. It's the ideal choice for those who face unpredictable weather conditions but refuse to compromise on their cooking experience.
3. BRS Stove BRS 3000T Ultralight Titanium Backpacking Stove
The BRS Stove BRS 3000T is the epitome of portability and efficiency. Crafted from durable titanium, this ultralight stove weighs a mere 26g, making it a backpacker's dream.
Despite its compact size, it doesn't compromise on power, boasting an impressive 2700W output. This ensures rapid boiling times, allowing you to prepare your meals quickly even in the great outdoors. Its design ensures a stable and even flame, making cooking a breeze.
The stove's compactness is further highlighted by its bright green pouch, ensuring visibility and easy storage. For those who prioritize weight and efficiency while backpacking, the BRS 3000T is an unbeatable choice.
Special Feature: Ultralight with Stable, Even Flame
Capacity: Boils 1L water in approximately 2 minutes 58 seconds
Material: Titanium
Dimensions: 1.97″L x 1.18″W x 0.98″H
Weight: 27.22 Grams
Key Features
Extremely lightweight and compact
Rapid boiling times
Stable and even flame
Easy setup and use
Durable titanium construction
BRS Stove BRS 3000T Ultralight Titanium Backpacking Stove
Compatible For
Lightweight backpacking
Quick meal preparations
Efficient fuel consumption
Where Need to Improve
Limited to specific fuel types
Bright pouches may not appeal to all
The BRS Stove BRS 3000T is a backpacker's best friend. Its ultralight design combined with powerful performance makes it a top choice for those who want efficiency without the weight.
---
4. CAMPINGMOON Remote Canister Stove XD-1
CAMPINGMOON's XD-1 Remote Canister Stove is a testament to innovation in outdoor cooking. Designed for winter backpacking, this stove is foldable, and compact, and comes with a preheat tube and inverted holder, ensuring consistent output in varying weather conditions.
Its large pot support allows for versatile cooking, accommodating both cookers and frying pans. Internal flame combustion ensures efficient fuel consumption and faster boiling times.
Made of stainless steel, this stove is durable and built to last, ensuring countless adventures in the great outdoors.
Special Feature: Preheat Tube & Inverted Holder
Capacity: Boils 1L water in less than 4 minutes
Material: Stainless Steel
Dimensions: 6.6″L x 6.6″W x 3.5″H
Weight: 390 Grams
Key Features
Foldable and compact design
Efficient internal flame combustion
Large pot support for versatility
Preheat pipe for stable combustion
Suitable for high altitudes
CAMPINGMOON Remote Canister Stove XD-1
Compatible For
Winter backpacking
Large cookers and frying pans
High altitude cooking
Where Need to Improve
Hose not included in the package
Requires specific gas canister type
CAMPINGMOON's XD-1 Remote Canister Stove is a must-have for winter backpackers. Its unique features and efficient design ensure a reliable cooking experience in the harshest conditions.
---
Canister Stove Buying Guide
Embarking on an outdoor adventure requires the right gear, and a reliable stove is no exception. The canister stove, with its blend of convenience and efficiency, has become a favorite among campers. But how do you choose the best one? Here's a guide to help you make an informed decision.
Fuel Efficiency
A stove's ability to make the most of its fuel is paramount. Look for models that promise longer burn times with minimal fuel consumption. This not only saves money but also reduces the weight you have to carry in fuel canisters.
Weight and Portability
For backpackers, every ounce counts. Opt for lightweight models that don't compromise on performance. A compact design that fits snugly in your backpack is ideal.
Stability
The last thing you want is your stove tipping over during cooking. A broad base and sturdy pot supports are essential, especially if you plan to cook with larger pots or pans.
Ignition System
Piezo ignition systems offer a quick and matchless start, enhancing convenience. While not a deal-breaker, it's a handy feature that many modern canister stoves incorporate.
Simmer Control
For those who take their outdoor cooking seriously, the ability to simmer is vital. A stove with good simmer control allows for more versatile cooking, from boiling water to preparing gourmet meals.
Altitude Performance
If mountain trekking is on your agenda, ensure your stove performs well at high altitudes. Some stoves might struggle as the air gets thinner, so it's wise to choose one known for high-altitude efficiency.
Related: Alcohol Stove Vs. Canister Stove: Advantages & Disadvantages
Diverse Camping Stove Landscape
The camping stove market is brimming with options, each tailored to specific needs. From traditional wood-burning stoves to modern liquid fuel variants, the choices are vast. Yet, the best canister stove stands out.
It's the epitome of convenience, marrying simplicity with efficiency. Its design is often more compact than its counterparts, making it a favorite for backpackers.
The fuel canisters are pre-pressurized, eliminating the need for priming or pumping, and they're easy to attach and detach.
Keeping Your Canister Stove Prime
Maintenance is the key to ensuring any tool's longevity, and the best canister stove is no exception.
Regularly check for any debris or residue build-up, especially after extended use. Cleaning the burner and the area around it can prevent clogging and ensure a consistent flame.
Store the stove and its canister in a cool, dry place away from direct sunlight. Before any trip, always inspect your stove for any signs of wear or damage.
Liquid Fuel Versus Canister Stove Showdown
In the battle of stoves, two types often come to the forefront: liquid fuel and canister. Liquid fuel stoves are versatile, working well in colder temperatures and at higher altitudes.
They also allow for refilling, which can be economical. On the flip side, canister stoves are the champions of convenience. They're typically lighter, easier to use, and have a faster setup time.
While both have their merits, for those prioritizing ease of use and portability, the canister stove often emerges as the top choice.
Mastering the Canister Stove Use
Setting up and using a canister stove is a straightforward process. Begin by securely attaching the fuel canister. Ensure the stove is on a stable surface to prevent any accidents.
Turn the valve to release the gas and ignite. Always monitor the stove while in use and avoid leaving it unattended.
For those new to canister stoves, it's essential to familiarize oneself with the stove's operation in a controlled environment before heading out. Safety should always be the top priority.
Frequently Asked Questions
1. Why Choose a Canister Stove Over Other Types?
Canister stoves are favored for their convenience and ease of use. They're lightweight, compact, and don't require priming or pumping. The fuel canisters are pre-pressurized, making setup and ignition swift and hassle-free.
2. How Long Does a Typical Canister Last?
The duration a canister lasts depends on usage and stove efficiency. On average, a 100g canister can burn for about 60 minutes on high. However, actual burn times may vary based on factors like altitude, temperature, and specific stove design.
3. Are Canister Stoves Suitable for High Altitudes?
While canister stoves work at high altitudes, their performance might diminish as the air gets thinner. It's essential to choose a stove known for its high-altitude performance if mountain treks are on the agenda.
4. Can I Refill the Fuel Canisters?
While some experienced campers might refill canisters, it's not recommended. Refilling can be risky, leading to potential leaks or even explosions. It's safer to purchase new canisters.
5. Are Canister Stoves Eco-Friendly?
Many canister stoves are designed to be fuel-efficient, reducing emissions. Additionally, some brands offer recyclable canisters. However, it's always a good idea to check with the manufacturer or brand for specific environmental initiatives.
In Summation
The quest for the best canister stove is rooted in the desire for a reliable, efficient, and convenient cooking solution during outdoor adventures. These stoves, with their compact design and quick ignition, have become the go-to choice for many outdoor enthusiasts. Their ability to provide a consistent flame, coupled with the ease of setup, makes them a valuable asset in the backpacker's toolkit. While there are various camping stoves available, the canister stove stands out for its blend of simplicity and performance. Whether you're a seasoned trekker or a weekend camper, understanding the nuances of your gear, especially something as vital as a stove, is essential. The right choice ensures not just warm meals but also safety and a memorable outdoor experience.
Read More: The Best Hobo Stoves- Top 4 Choices