Furrion Electric Fireplace Problems: Troubleshooting Tips and Tricks
Furrion electric fireplace problems can sometimes be a concern for homeowners. From malfunctioning components to unexpected errors, these fireplaces can present challenges.
Electric fireplaces by Furrion, while popular and efficient, do present some common issues. One frequent problem is the fireplace not working at all, leaving users with a cold living space. The fireplace might display an error code, such as code 88, which indicates a particular malfunction within the system.
Alongside these error codes, a flashing red light or continuous blinking can also indicate that something is amiss with the device.
Sometimes the issue can be as simple as the fireplace not turning on. In cases like these, it's essential to check the power source and ensure that it's connected correctly. If there's no obvious power issue, one might need to examine the unit's individual parts.
Over time, components of the Furrion electric fireplace can wear out or break, requiring replacement. It's crucial to identify which part is causing the problem and replace it to restore the fireplace's functionality.
5 Furrion Electric Fireplace Problems: Causes and Fixes
1. Furrion Electric Fireplace Not Working
Many homeowners experience the frustration of their Furrion electric fireplace ceasing to operate correctly. It's paramount to identify the root cause and seek effective solutions promptly. Here, we discuss potential reasons for this issue and how one can address them.
Causes:
Power Supply Interruption: Sometimes the fireplace doesn't receive adequate power, leading to a non-functional state.
Malfunctioning Internal Components: Various components inside the fireplace, like heating elements or circuits, can fail.
Overheating: Extended use without proper ventilation can cause the unit to overheat and stop working.
Faulty Switch or Control Panel: The fireplace might not respond due to a malfunctioning switch or control panel.
Fixes:
Check if the fireplace is plugged in securely and if the power outlet functions correctly.
Examine the unit for any visible damage and consider consulting a professional if you suspect internal component failure.
Allow the fireplace to cool down for several hours, ensuring it has proper ventilation to prevent any future overheating.
Examine the switch or control panel for any visible issues. You might need to replace them if they appear damaged or unresponsive.
2. Furrion Electric Fireplace Blinking
One of the noticeable furrion electric fireplace problems is the blinking issue. This irregular blinking can be disconcerting and suggests a disruption in the system.
Causes:
The blinking could be an indicator of a loose connection within the fireplace.
A malfunctioning thermostat may also be the culprit, causing inconsistent heating and blinking.
Overheating can also result in the blinking of the fireplace as a warning signal.
Fixes:
Ensure all internal connections are secured.
Check the thermostat settings and replace if needed.
Ensure the fireplace has adequate ventilation to prevent overheating.
3. Furrion Electric Fireplace Flashing Red Light
The flashing red light often indicates a specific issue or error with the fireplace system.
Causes:
This light can flash if there's a power supply interruption.
Sensor malfunctions might also trigger this flashing light.
A system error or malfunctioning component within the fireplace can also cause this.
Fixes:
Ensure a steady power supply to the fireplace.
Reset the fireplace to see if the light stops flashing.
Consult the user manual to determine the specific error associated with the flashing light and act accordingly.
4. Furrion Electric Fireplace Will Not Turn On
If the fireplace doesn't turn on at all, it poses a significant inconvenience.
Causes:
There might be no power reaching the unit.
An internal fuse may have blown.
A defective switch or internal component could be at fault.
Fixes:
Check and confirm the unit is plugged into a working outlet.
Inspect and replace the internal fuse if blown.
Consider replacing the switch or seeking professional help if an internal component is faulty.
5. Furrion Fireplace Remote Not Working
Remote issues can be frustrating as they limit the functionality and convenience of the fireplace.
Causes:
The remote's batteries might be drained or expired.
It's possible the remote's internal components are damaged.
There might be a syncing issue between the remote and the fireplace.
Fixes:
Replace the remote batteries.
Check the remote for visible damages and consider getting a replacement if damaged.
Re-sync the remote with the fireplace following the manufacturer's instructions.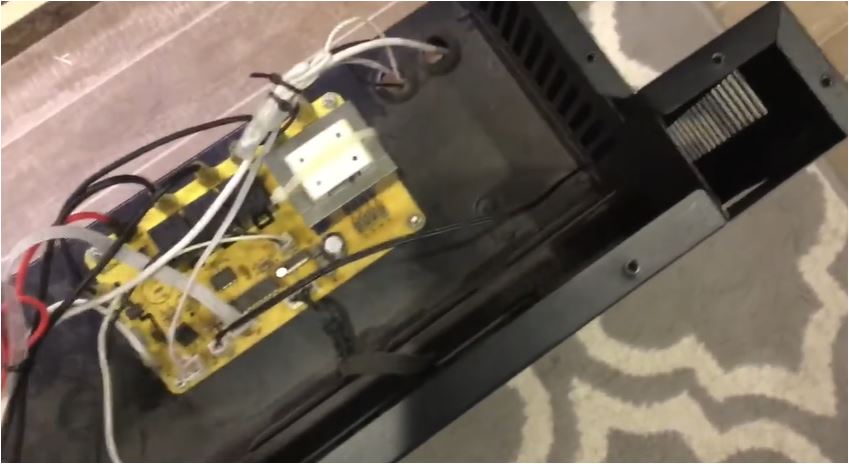 Preventive Actions for Furrion Electric Fireplace Issues
Taking care of household appliances is paramount for their longevity, and Furrion electric fireplaces are no exception. To minimize the chances of encountering common problems, it's best to proactively follow preventive measures.
Causes:
Power fluctuations or surges can cause disruptions in the functioning of electric fireplaces.
Continuous operation without breaks can stress the system.
Dirt and debris accumulation within the unit can lead to malfunctioning.
Physical damage or mishandling can also contribute to problems.
Preventive Measures:
Invest in a good quality surge protector to shield your fireplace from sudden power surges.
Allow breaks in between long durations of operation to avoid overheating.
Regularly clean and maintain the fireplace, ensuring no debris or dust accumulates within the system.
Handle the device with care, avoiding any physical mishaps or damages.
By following these preventive steps, users can ensure their electric fireplace's durability, efficiency, and overall health.
Common Questions and Answers About Furrion Electric Fireplace
Why is there a strange odor from my fireplace?
Newly installed fireplaces might emit a smell due to manufacturing residues. This usually fades after a few uses. If persistent, a thorough cleaning or consultation might be necessary.
Why is the heating uneven or fluctuating?
Uneven heating can result from obstructed vents or malfunctioning heating elements. Ensure vents are clear, and if the problem persists, consult a technician.
How often should I clean the interior?
Regular cleaning, ideally every month, ensures optimal performance and reduces potential issues. Depending on use, adjust the cleaning frequency.
Why does my fireplace produce noise?
Some operational noise is standard, but excessive sounds could indicate a problem. Check for any obstructions or loose parts inside the unit.
Can I leave my fireplace on overnight?
It's best to turn off the fireplace overnight. Continuous operation can lead to overheating and potential damage.
Why is my fireplace's flame effect weak or dim?
A dim flame effect might result from a faulty bulb or LED. Consider replacing these components to restore the flame's vibrancy.
Do electric fireplaces increase electric bills significantly?
While electric fireplaces consume energy, they are generally energy-efficient. However, excessive use can lead to a noticeable rise in electricity bills. Use judiciously for optimal efficiency.