Is Big Buddy Heater Safe Indoors: The 4 Precautions
Big Buddy Heaters, with their built-in safety features, can be a reliable source of heat indoors when used correctly. The Oxygen Depletion Sensor (ODS) is a critical component, ensuring the heater turns off if oxygen levels in the room fall dangerously low. This feature is particularly important in preventing the accumulation of carbon monoxide, a colorless and odorless gas that can be lethal. The accidental tip-over safety shut-off is another vital safety measure, which automatically shuts off the heater if it's knocked over, thereby reducing fire risks.
Portable propane heaters like the Big Buddy are designed for safe indoor use, provided they are operated in well-ventilated areas to prevent the buildup of harmful gases. When using a Buddy Heater with a fan, it's important to ensure the area is well-ventilated, as the fan can help distribute heat but also disperse gas if there's a leak.
Regarding use in tents, both Big Buddy and Mr. Buddy Heaters are generally considered safe, provided the tent is well-ventilated and the heater is placed on a stable surface away from flammable materials. It's crucial to follow specific guidelines related to space, ventilation, and duration of use to ensure safety.
Related: 5 Best Stove Fans for Buddy Heater
How Does a Big Buddy Heater Work?
A Big Buddy Heater operates using a combination of propane fuel and a battery-powered ignition system. Its efficiency lies in its ability to convert propane into heat through a simple yet effective process.
Once ignited, the propane gas flows to the burner where it is combined with oxygen. This mixture is then ignited by a spark, producing heat. The heat is radiated outwards through a ceramic heating element, efficiently warming the surrounding area.
The heater's design includes safety features like the Oxygen Depletion Sensor (ODS) and a tip-over safety shut-off. The ODS monitors the level of oxygen in the room, automatically shutting off the heater if the oxygen level drops too low.
This is vital in preventing carbon monoxide buildup, a colorless and odorless gas that can be lethal in high concentrations. The tip-over safety feature ensures that if the heater gets knocked over, it will automatically shut off, reducing the risk of fire.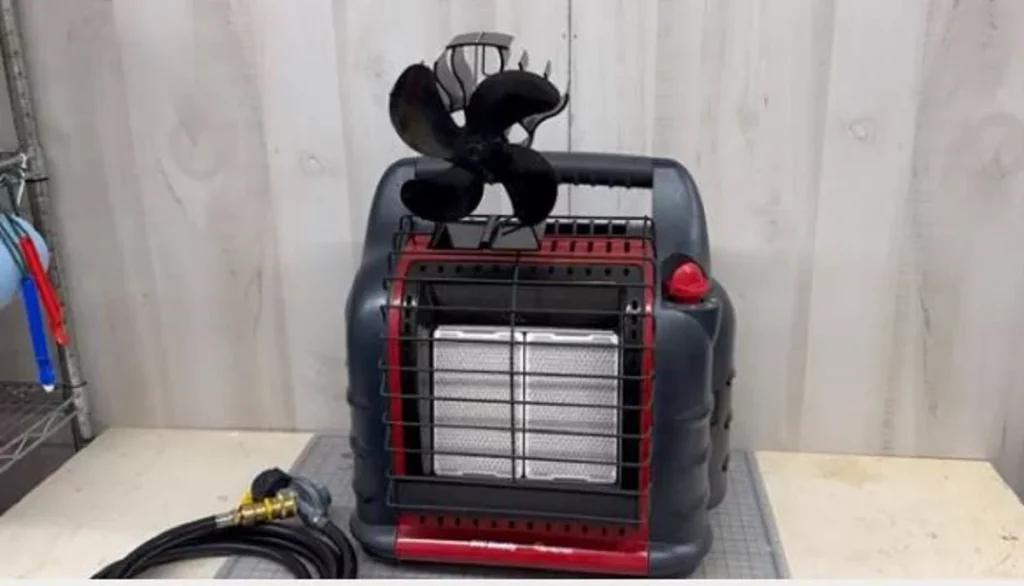 Indoor Risks of Big Buddy Heaters
Using a Big Buddy Heater indoors presents certain risks that should be taken seriously. The primary concern is the potential buildup of carbon monoxide (CO), a colorless, odorless gas that can be deadly.
Since the heater burns propane, inadequate ventilation can lead to CO accumulation, posing a serious health hazard.
Another risk involves fire hazards. Despite having a tip-over shut-off mechanism, placing the heater near flammable materials can still pose a risk of fire, especially in cluttered or confined spaces.
Propane leaks, although rare with well-maintained units, can also present a significant danger.
Read Also: 7 Best Heat Powered Wood Stove Fans
Indoor Safety of Mr. Heaters
Mr. Heaters, known for their versatility and efficiency, are often compared to other heaters for indoor use. These heaters are designed with multiple safety features, making them a reliable option for indoor heating.
The built-in Oxygen Depletion Sensor (ODS) is a critical component that enhances safety by automatically shutting off the heater if the oxygen levels in the room drop too low. This feature is vital in preventing the dangerous accumulation of carbon monoxide.
Another aspect where Mr. Heaters excels is their tip-over safety mechanism. This feature ensures that the heater automatically shuts off if it's accidentally knocked over, reducing the risk of fire.
When compared to other indoor heaters, Mr. Heaters typically offers superior portability, ease of use, and energy efficiency. They are often preferred in situations where temporary heating solutions are required, such as in workshops or garages.
Despite their safety features, it is crucial to follow all operational guidelines provided by the manufacturer. This includes using the heater in well-ventilated areas and keeping it away from flammable materials. Regular maintenance is also essential to ensure the heater operates safely and efficiently.
Big Buddy Heater Indoor Use Precautions
1. Ventilation is Key
Always ensure proper ventilation when using a Big Buddy Heater indoors. This prevents the buildup of harmful gases, such as carbon monoxide, ensuring a safe environment.
2. Stable Placement
Position the heater on a stable, non-flammable surface. Keep it away from high-traffic areas to avoid accidental tipping, and ensure it's not near any flammable materials like curtains or furniture.
3. Regular Inspections
Periodically inspect your Big Buddy Heater for any signs of wear, damage, or malfunction. Check hoses and connections for leaks, and ensure the ODS is functioning properly.
4. Operational Awareness
Never leave the heater unattended while in use. Be aware of its operation time and ensure it's turned off when not needed. Always adhere to the manufacturer's guidelines for usage and maintenance.
Choosing Indoor-Safe Heaters
Selecting the right heater for indoor use requires understanding the different types available and their safety features.
Electric Heaters: These are among the most common for indoor use. Electric heaters convert electrical energy into heat and are available in various types, including convection heaters, infrared heaters, and oil-filled radiators. They are generally safe as they don't emit combustion gases, but it's crucial to keep them away from flammable materials.
Infrared Heaters: Infrared heaters emit radiant heat, which directly warms objects and people in the room without heating the air. This makes them efficient and safe for indoor use, as they reduce the risk of oxygen depletion and carbon monoxide production.
Ceramic Heaters: These heaters use ceramic plates to absorb and radiate heat. They are typically compact and include safety features such as automatic shut-off if they overheat or tip over.
Oil-Filled Radiators: These heaters are energy-efficient and provide consistent heat. They operate by heating oil within the radiator, which then circulates the warmth. Since there's no fan, they're quieter and don't circulate dust, making them a good choice for people with allergies.
Pros and Cons of Using a Big Buddy Heater Indoors
Pros
Big Buddy Heaters generate substantial heat, making them effective for warming large spaces quickly.
Their design allows for easy movement, offering flexibility in heating different indoor areas.
These heaters are known for their efficient propane use, which can be more cost-effective than electric heating.
Cons
To safely operate a Big Buddy Heater indoors, proper ventilation is necessary to prevent the buildup of harmful gases.
They require sufficient clearance from combustibles, limiting where they can be safely placed.
Without adequate ventilation, there's a risk of carbon monoxide poisoning, necessitating caution and the use of carbon monoxide detectors.